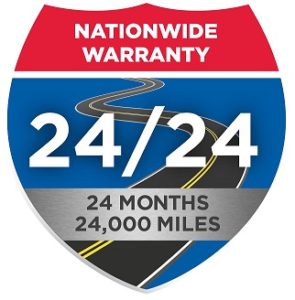 Peace of mind.  That's what our customers get with our Nationwide 24 Months/24,000 Miles Warranty.  As an authorized TECHNET automobile service facility, a multitude of repair services we perform on your vehicle are covered under this warranty.  Should the warrantied part fail before 24 months or 24,000 miles, whichever comes first, you're covered.
That's right, wherever you are, coast-to-coast, we and the national chain of TECHNET facilities are here to repair any warantied service performed on your vehicle.
General Warranty Questions
What is the cost of the nationwide warranty:
The cost is FREE.  All customers automatically receive this warranty on any repair service  that falls under the coverage categories.
If we performed any of the repairs below, you are warrantied.
Air conditioning, heating and climate control systems
Brake system(s)
Electrical system(s)
Emission control system(s)
Engine cooling system(s)
Electronic engine management system and other on-board computer systems (engine, body, brake and suspension computers) cruise control systems
Engine performance or drivability services and repair
Exhaust system(s)
Fuel system(s)
Ignition system(s)
Other minor repairs
Starting and charging systems
Steering/suspension systems, wheel bearings, CV axles and joints, half-shafts and driveshafts
Hybrid drive battery replacement(s)  *Installed after July 1, 2016
WARRANTY REPAIR COSTS SHALL IN NO CASE EXCEED THE COSTS OF THE ORIGINAL REPAIR INVOICE.
 What must I do to obtain warranty service:
Keep a copy of the original repair invoice and present it when obtaining warrantied service.
If you are less than 25 miles from the original repair facility, return to that facility to have the repair performed.
If you are more than 25 miles from the original repair facility, call the Warranty Administrator at 1-866-855-0728 for direction to the nearest participating facility.
What services are NOT covered by the warranty:
Service repairs that involve the removal of the engine, transmission, or transaxle, or the replacement or removal of internally lubricated parts are some of the services not covered.