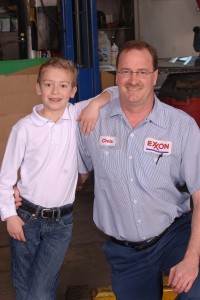 When it comes to choosing an auto repair center, customers seek a location where they can place their confidence. Experience and breadth of knowledge give the customer that security. As owner, I have over 30 years of auto repair experience and a firm foundation on the many makes and models on the road today.
Let me take this moment to introduce myself and give you a little background. My name is Chris Daniel and I am a lifelong Chesapeake resident. Auto repair work has been a part of my whole working career which, coincidentally, began at this very location. I started as a gas attendant in 1983, then worked in the garage and finally purchased the station in 2001.
These three decades have given me the opportunity to plant deep roots in the community and to foster growing relationships with my customers. Having generational customers – parents and now their adult children – is very rewarding. (And, let's be honest, can make a guy feel a little old, too.)
Through the years of work and various positions, experience has taught me how important a person's vehicle is to one's daily needs. Life is busy and auto repairs are disruptive. We completely understand. It is our goal to make our customer's experience smooth and hassle-free by providing the best auto repair service the first time around.
As an authorized TECHNET repair shop, we are proud to provide a Nationwide 24 Months/24,000 Miles Warranty on most repairs. We also offer Roadside Assistance for when those emergencies pop-up.
You can count on Great Bridge Auto Service to put you first and deliver quality repairs that keep your vehicle running right!